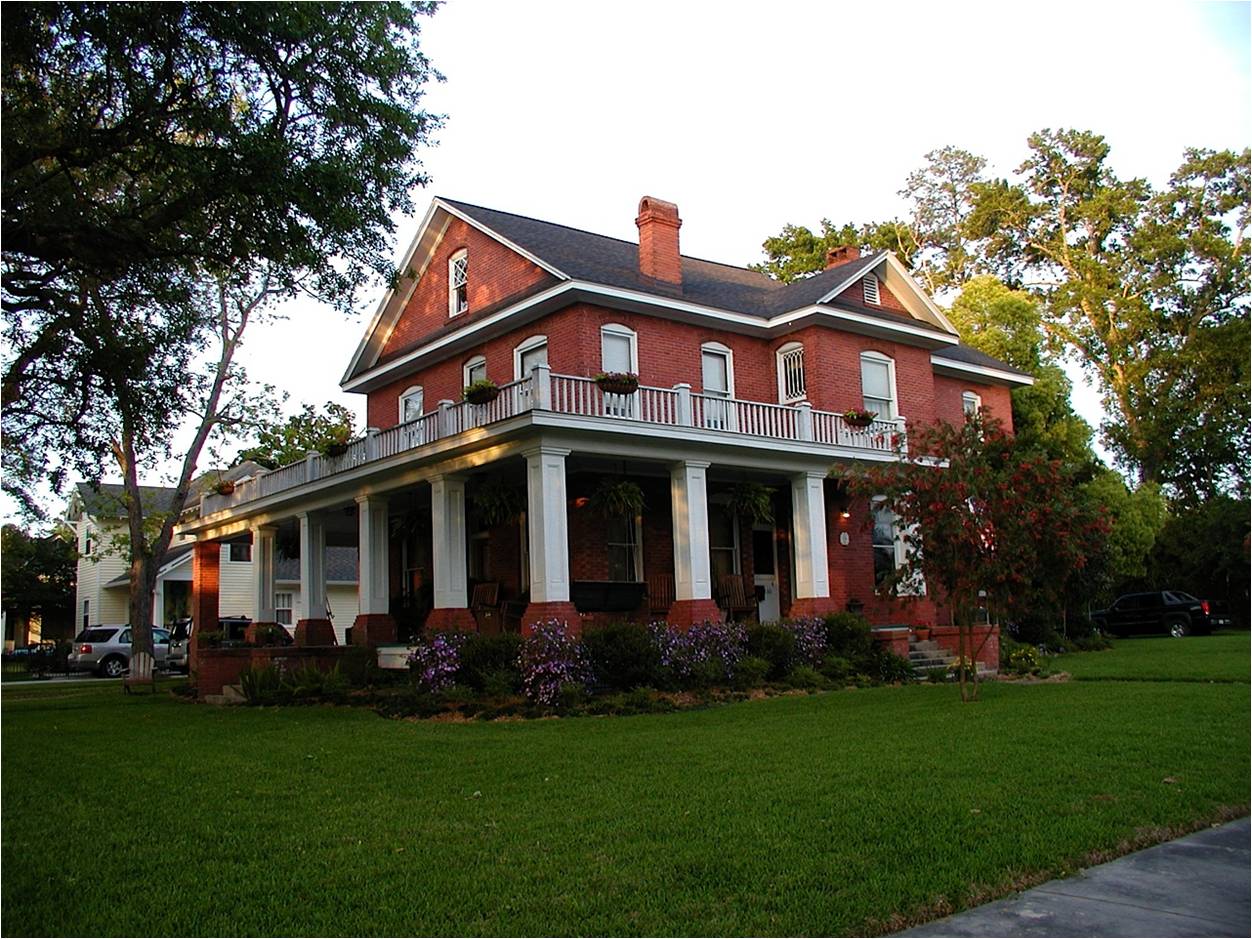 The Leon Locke Home (Circa 1912) Owners: Theresa and James Barnatt

This home, known as "Maison Rouge" was the first home built in Margaret Place circa 1912. The original homeowners/builders were Leon Locke and Francis E. King and the current caretakers are Jim and Theresa Barnatt.

Leon's paternal ancestors came to America in 1632 and located in New England. Some of the Mr. Locke's paternal ancestors were with the Colonists who met the British on Lexington Commons and harassed their retreat. Mr. Locke's mother was a descendant of Nathaniel Seegar, a Maine pioneer and patriot, who was captured by the Indians and escaped with a companion. This was a thrilling episode in the history of the Maine settlements when they were a part of the parent Colony of Massachusetts.
Leon was born in Locke's Mill, Oxford, Maine on January 4, 1869 and his parents moved to Kansas while he was an infant. As a youth he studied and experimented in chemistry, and at the age of 15 was a registered pharmacist. When he was only 17 he taught chemistry. For 20 years he was in business as a druggist in Kansas and when he was 27, he was elected mayor of Fulton, Kansas, where he served two terms. He later served as mayor of Walnut, Kansas before moving to Lake Charles in 1896. He was mayor of Lake Charles from 1929 to 1933.
From 1908 to 1916 Leon was a member of the Louisiana legislature, serving as chairman of the committee of education from 1908 to 1912, and chairman of the appropriations committee from 1912 to 1916 in Governor L.E. Hall's administration. Leon was also active in national politics and in 1908 under the direction of the national democratic committee he delivered speeches around the country on behalf of presidential candidate Williams Jennings Bryan.
Mr. Locke was one of the organizers and directors of the National Rivers and Harbors congress and was appointed to its advisory committee. Through this position he was able to serve as the organizing force of the Intracoastal Canal association and it is chiefly through his efforts as its active Vice President that the Louisiana section of the canal was completed. Many historical records refer to him as the Grandfather of the Intracoastal Canal.

Mr. Locke served as Mayor of Lake Charles during the difficult years of the depression. According to his handwritten journals, which are in the possession of one of the previous homeowners, often the City was unable to make its payroll and Mr. Locke made these payments from his personal funds.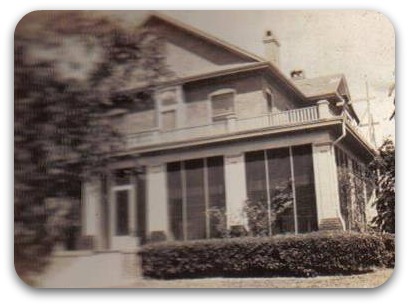 On November 7, 1889, Mr. Locke married Frances E. King. Frances was the daughter of C. A. King, a Methodist minister. They had one daughter, Miriam, who was born in Kansas on March 20, 1892.

Leon and Frances Locke loved children and flowers. According to historical reports, they grew some of the most beautiful flowers in Southwest Louisiana. In typical Southern gentleman style of the day, Mr. Locke was rarely seen without his cane and hat. He made many of his canes himself from the orange trees that grew in his yard. The Lockes were avid readers and had a private library of over 3,000 volumes and it was considered one of the most valuable in the South. It was thought that certain volumes should remain in the home so the current homeowners have some of the Locke's original library. Mr. Locke was recognized as a scholar of political science and he is the author of an article in the New America Encyclopedia on intercoastal and intracoastal canals.

Leon Locke died in his home on April 5, 1934 and his funeral services were in the home on April 6, 1934. Following the news of his death, the flag at city hall was ordered to fly at half mast and all city offices were closed in his memory. Frances K. Locke survived Leon and in her later years was an invalid. During this time, Miriam converted Maison Rouge into a rooming house for single female teachers. Some of these roomers include Ruth Clark Reedy, Iris Murphy, Linnie Lacy, Mable Ross and Dorothy Plauche.

Miriam Locke married Lucius Lemar Moss on May 31, 1949 and they lived in Maison Rouge until their deaths. Mariam died on October 11, 1968 and Lucius died on January 10, 1973. The various relatives of Lucius Moss inherited Maison Rouge and for years it was uninhabited and abandoned.

In January, 1975 Blair and Mickey Stoker purchased the home from the legatees of Lucius Moss. They moved into the home with their four young children and began a phase of renovation. Because of the age of their children, the Stokers removed an upstairs outside door and replaced it with a window. The original door is now the front door on the home located at 1515 Griffith Street. Blair Stoker died on February 26, 2001 survived by his spouse, Mickey, and his four children.

At the Palm Sunday Home Tour immediately following Blair's death, Mickey Stoker was overheard telling a friend that she was seriously considering selling her home. The current owners, Jim & Theresa Barnatt, who were looking for a historic home to restore, were contacted and told about this conversation. Through a mutual friend, arrangements were made for the Barnatt's to purchase the home with the condition that Mickey could carve out a lot to build a home that her husband had designed. The Barnatts purchased the home and leased it back to Mickey while her new home was being built next door, 1515 Griffith Street.

Jim and Theresa are the ultimate "Do It Yourself" couple. They do the majority of the work themselves on a pay as you go basis. They work when they have the time and the energy so progress is often slow. Over the years they have learned to plumb, wire, float sheetrock, repair plaster, paint and lay tile. And all window treatments were designed and sewn by Theresa. They have contracted only a few projects like a new roof, installation of central air and heat, and the reframing of the front porch.

Through the renovation and restoration of Maison Rouge the Barnatts have learned the true meaning of patience and flexibility. While they may prioritize their projects, the house has a way of modifying their list. Old homes have a way of talking to you and helping you decide your projects and how extensive the work should be. The Barnatts are currently in the 10th year of their original 5 year plan. Although there have been times of "blood, sweat and tears" along with the dirt, dust and grime, they envision the restoration as an enjoyable experience. Searching for the perfect piece of furniture at the auction or finding the right size stained glass window have become a part of their everyday lives.
ARCHITECTURAL FEATURES:
The home is built on what was formerly the Perkins family's orange orchard. We believe Leon Locke occasionally visits his old home. Even though all of the trees have been removed, there is often the strong smell of oranges and cigars throughout Maison Rouge.
Because the house was built and paid for in cash, there are no records of the architect or builders, but several aspects lead to the supposition that Favrot and Livaudais, a prominent architectural firm at the time the house was built, was the architect. One aspect that supports this theory is the reinforced turnbuckle ties from wall to wall at each floor. Some of the interior walls are approximately 12 inches think in order to accommodate the turnbuckles. This was primarily done in public buildings at the time to prevent destruction by hurricanes, and was a feature of many of Favrot & Livaudais buildings, such as Lake Charles old City Hall and Calcasieu Parish Court House.
Another Favrot & Livaudais feature was the use of hand-constructed bell footings which are an aspect of this home that one does not find in residential work of this period. Because Mr. Locke was a prominent man in the community with political leanings, he certainly would have had the means to hire this firm.