1505 Griffith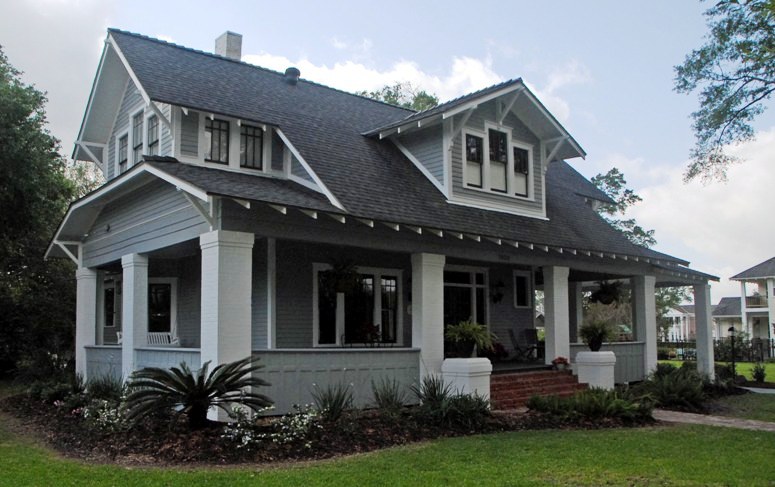 The Dr. H.B.White House, (Circa 1919) Owner: Leslie Knox

Built in 1919, this two-story bungalow on the corner of Griffith Street and Park Avenue (formerly Line Avenue) was the second home in Margaret Place owned by Dr. Henry Bascom ("H.B.") White and his first wife, Anna.
Situated one block from the lake, the house sits on 2½ lots opposite the Leon Locke House located at 330 Wilson Street. The house is built on piers, is constructed of long leaf "heart" pine, and most of the wood siding, tongue-in-grove porch railings, interior flooring, glass-panelled doors, and double-hung windows are original.
The first floor boasts 12' ceilings and a fireplace adorned with built-in bookshelves. The exterior has exposed rafters, dormer windows, and a covered wrap-around porch. All of these details are consistent with the bungalow style of architecture popular during the early 1900's and in Margaret Place, particularly.
The original lawn contained a gazebo surrounded by a rose garden, and a free-standing garage which housed the first owners' automobile -- a Ford Model T. An inventory prepared by Dr. White after Anna's death in 1921 states that the house was furnished with four bedroom suites, one dining room suite, one living room suite, and a "library", piano, gramophone, kitchen utensils, and rugs having a total appraised value of $1,800.00.
With the exception of changes made to the back porch and sunroom, the original footprint or "bones" of the house remain virtually intact. However, numerous changes have been made to the interior of the house, reflecting various owners' concepts of modernization, renovation and historic preservation.
In the 1930's, a local plumber named George Webb installed the area's first gas central-heating system in what had been the house's root cellar, and central air conditioning and heating was later installed throughout the house.
The kitchen and master bedroom and bath have been updated, most of the shiplap and plaster walls have been covered with sheetrock, and the original wood flooring -- much of which was covered with wall-to-wall shag carpeting in the 1960's -- and the original craftsman-style stained window and door trim – much of which had been painted over -- have been restored to their original state.
But one of the most exquisite elements of the home –Italian Carrara marble countertops – is neither original nor new. These countertops are fashioned from sheets of marble originally serving as stall dividers in the men's restroom of the lobby of the Majestic Hotel, another Lake Charles historical structure built in 1906, which dividers were removed from the hotel and sold as salvage when it was demolished in 1965.
H.B. and Anna White were from Abbeville, Louisiana, though they lived in Geydon for a time prior to moving to Lake Charles -- in either 1915 or 1916. The couple bought the two lots on which the house is now situated on February 28, 1919 and, according to his youngest son, Tommy White (who is also a physician), H.B. White's medical office was located in the Nagem Building in downtown Lake Charles, less than one mile from their home.
Dr. White purchased the ½ lot adjacent to the Leon Locke property in 1924 and he and his family (daughter, Dorothy Ann White, and wife, Natalie, and their three sons) lived in the house until 1937, when the property was sold to Bonnie Castle Mertz.
Mrs. Mertz and her husband, Fay H. Mertz, lived in the house until 1955, when they sold it to George Lock Paret, Jr. and his wife, Beverly Bowers Paret, who raised four children and lived in the house for 35 years.
In 1992, after Lock Paret inherited the property across the street (on Shell Beach Drive), he and Beverly sold the house to local architect Ray Fugatt and his wife, Shirley. Two years later, the Fugatts sold the house to Virginia natives, Dr. Bruce Knox and his wife, Leslie Q. Knox.
Ms. Knox, a local attorney, continues to live in the house, which was recognized as a Calcasieu Parish Preservation Society Landmark Home in 1987.